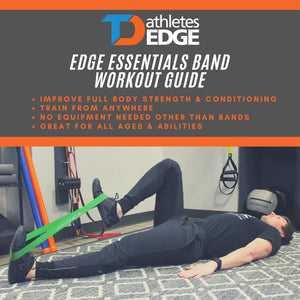 Stay Home. Stay Active.
Get The Edge Essentials Band Workout Guide for 4 weeks of full-body workouts you can do at home with no equipment needed other than bands.
Staying Home, Not Staying Still
COVID-19 has put the world in a tailspin and everyone's anxiety levels are high. You want to hit the gym to burn off some of that nervous energy. You want to use your newfound free time to take care of your health. You want to take care of your body and strengthen your immune system.
We get that. We want that, too. And we really look forward to the days we can host workouts once more in our gym! But the best thing any of us can do for ourselves and one another right now is to stay home.
Fortunately, staying home doesn't have to mean staying still.
At-home, band workouts are a great way to stay active and healthy for your body and your mind. So we've put together a band workout guide to help you do exactly that. No gym needed, just a few exercise bands!
The Edge Essentials Band Workout Guide
This 3-day a week, 4-week band workout guide is designed to help you prioritize your health, safety, and wellbeing throughout the coronavirus crisis. Each day includes time for warm-up and recovery, plus a variety of full-body exercises to improve your lower- and upper-body strength, core stability, metabolic conditioning, flexibility, and more. 
35+ Exercises to Prevent Boredom




Band workouts don't have to be boring! We've included over 35 different exercises with variations for any age or skill level. Combined, these exercises produce balanced, full-body workouts.

Easy-to-follow Demonstration Videos




You may not be able to work out with a trainer right now, but we've got your back. We've included simple demo videos that break down the proper form for each exercise, so you can work out with confidence.

Spreadsheets for Tracking Progress




Staying motivated for four weeks of at-home workouts can be a challenge. Our easy-to-use spreadsheets make it fun to track your progress and hold you accountable to finishing strong. 

The Coaches Behind the Guide




At TD Athletes Edge, we believe chasing after your health and wellness goals doesn't need to be hard, overwhelming, or scary. We make it easier by offering in-person training, online coaching, downloadable training programs, nutrition coaching, and more.




We're a team of Strength & Conditioning Coaches for athletes of all levels and we hold a wide variety of professional certifications and degrees. 




Together, we combined our varied expertise to craft this band workout guide. Our goal is to help our clients and people around the world find the support they need to stay home and stay healthy during the COVID-19 outbreak.

Get Started Today
We've made it simple to get started with your at-home workouts today. Just download the plan, review the exercises, and get moving!
Step 1:

Download




Get 4 weeks of workouts for just $29.99. That's only $2.50 per workout!

Step 2:

Review




Review the exercises, demo videos, and FAQs to prepare for your first workout.

Step 3:

Move!




Do each workout in your home—

no equipment needed other than bands!

A Program You Can Trust
Hear why people trust our coaches and programs to guide them towards their fitness goals in every season of life.
"These coaches design really smart and progressive programs that always challenge me in new ways." -Molly
"I have more energy and confidence in myself." -Ilan
"Being strong has given me a new confidence and shifted my mindset away from "I can't"." -Josie
"I feel much healthier and stronger." -Bob
"I am taking more ownership of my fitness and feel confident doing self-directed workouts while away from the gym." -Steve
In Case You Were Wondering…
Here are our answers to a few commonly asked questions. Don't see yours listed? Contact us here https://www.tdathletesedge.com/contact and we'll help however we can.
Why didn't you make The Edge Essentials Band Guide free?
We understand that this is a financially trying time for many people right now, and we've done our best to price this affordably at $2.50 per workout. As a small business, charging for this guide helps us to continue paying our coaches throughout this crisis. If this is still outside of your budget, we understand and invite you to follow us on https://www.instagram.com/tdathletesedge, where we share free tips and exercises with over 35,000+ followers.

Now that I'm home more, I'm also cooking more. Do you have any resources that can help me with my nutrition?
Absolutely! We've always offered online nutrition coaching to help you make sustainable lifestyle changes, one habit at a time. Click here to learn more about that program.
What skill level is this workout guide for?
This band workout guide is designed for all ages and skill levels. All 35+ movements are bodyweight and band only and include variations to meet you where you are. Of course, always check with your doctor before undertaking any exercise program.
What do I need in order to do these workouts?
All you need is the download of the guide and a desire to get moving. You don't need any equipment other than bands, or even very much space to complete these workouts. We've designed this guide to make it easier to work out at home during this coronavirus crisis—and beyond!


Take Control of Your Health
With COVID-19 spreading across the globe, it's easy to feel out of control right now. And it's true that a lot is outside of our control!
But there are a few things you can control, even at a time like this—things like staying at home to protect your community and staying active to take care of yourself.
With this guide, we hope to help you do both. Just click below to get your guide and get started. We're all in this together!